Why Is This Pet Food Company Unique?
Without a doubt, nutrition is a key component to feline health. When you offer a species appropriate diet your cat is going to thrive. If you feed your cat foods that include biologically inappropriate ingredients, eventually you're going to have health issues. Offering high quality, fresh, wholesome ingredients is woven into the philosophy and mission of Canidae. Have you heard of them? This independent pet food company has been around since 1996 and was founded by co-owners Scott Whipple and John Gordon. They wanted to be a company that listened to their customers and provide pet food that used quality, wholesome ingredients.
Pet Food Ingredients Matter!
Back when they first started out they would deliver their products to the stores in their own pickup trucks. They began to build relationships with retailers and customers that continues today, almost 22 years later. They partner with farmers, fishermen and ranchers to source only the best meats, seafood and products. Fresh bison meat comes from the grasslands of Wyoming; fresh lamb comes from Colorado; fresh salmon and trout come from the Pacific Northwest; fresh produce comes from the heartland of the United States. They source lamb from New Zealand and duck from France.
The Next Big Step
In 2012 they purchased Ethos Pet Nutrition facility in Brownwood, TX. It had been their dream to operate their own manufacturing facility so they could have more control and oversight in the entire process of making their pet food products. Employees are treated like family and many second generation family members now work there, too.
Each ingredient is tested before it's cooked, and the food is cooked in small batches. Every batch is monitored and tested along the way to ensure safety and quality.
Sustainable Farming Practices
Growing their own ingredients became so important they had the idea to start their own farm back in 2013. In 2015 they partnered with a Kansas farmer who shared their same vision and values. They believe in sustainable farming practices which includes no-till farming, maintaining sheep onsite to provide natural fertilizer, and forward thinking technology to control weeds, pests and build soil quality. They like to call it "partnering with nature instead of working against it." In 2016 they grew 80 tons of fresh ingredients and were projected to grow over 500 tons of fresh ingredients in 2017.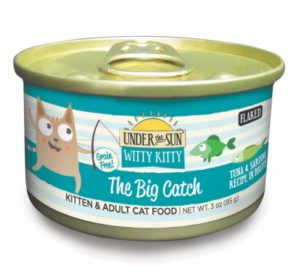 They offer two lines of wet cat food: Grain Free Pure and Under The Sun. Both lines are made without grains, potatoes or carrageenan. Textures include pate', morsels and slices, sure to please even finicky cats. Limited ingredient recipes are perfect for cats with digestive issues or sensitivities; other recipes offer mixed proteins.
If you haven't tried Canidae cat food it's time! Make the move away from kibble and offer a great wet diet instead. If a raw diet isn't in your budget or if your cat isn't fond of it, this brand's wet food line gets a paws up! You can find both lines in The Boutique for Cats.
If you'd like to learn more about feline nutrition and what to look for in cat food ingredients, check out this page.