Making Human Grade Cat Food Great
Cats are true connoisseurs of all things comfort and great food. In fact, if your cat is reading this over your shoulder she's probably also going to insist you let her try this new, amazing, human grade cat food. Let me tell you why.
How it all started
FirstMate Pet Food's owner and founder, Michael Florian, was a commercial fisherman in the North Pacific for years. He began as a deckhand and eventually the owner of the fishing vessel Taplow. Years passed and he grew concerned about depletion of fish stocks, and this led him to develop a new company that created fish feed for the salmon farming industry in British Columbia. The dogs guarding the fish farms liked to eat the feed which concerned the farm owners. They asked Mike if he could create a food for the dogs. As a result Mike and his nutritionists went back to work, and FirstMate was born.
They now own a large, modern facility in Chilliwack just outside of Vancouver that manufactures their kibble products. Their canned formulas are produced in their own human grade cannery within British Columbia, Canada. Owning their own manufacturing facilities gives them more control over production, safety and quality. Family owned and operated since 1989, they have a loyal customer following worldwide.
"The Best Nutrition is Simple"
This slogan is on every single product as a reminder that great food doesn't have to be complicated. There are two lines of foods: FirstMate and Kasiks. They make kibble and canned formulas.
Both lines provide a limited ingredient diet and includes proteins like free run chicken, wild-caught Coho salmon and free run British Columbian turkey. They are free of grains, gluten, GMOs, gums, carrageenan, artificial preservatives, coloring agents and added hormones. Kasiks uses a tiny amount of pea, and Coconut, kale and berries provide natural antioxidants. FirstMate uses a very small amount of potato and kale in its formulas. Both lines use BPA/epoxy free cans. When diving into the nutritional analysis the vegetable/carb percentage ranges from 2-5%, which resembles what cats would ingest from prey in the wild.
When you first open the can you'll notice how soft and juicy this pate is compared to other cat food.
They are described by users in many ways: "Collapsible Pate", "wet pate", and the crowd favorite, "silky pate". The reason our canned products are soft and tender is due to the complete lack of thickening agents such as: Carrageenan, Agar-Agar, Guar Gum, Xanthum Gum, Cassia Gum, Locust Bean Gum, etc."
Human grade ingredients
Their website goes on to explain what makes their food unique and tasty: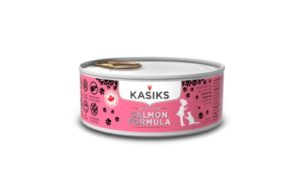 FirstMate & Kasiks uses only Natural, Human Grade meats in our canned diets, with no artificial preservatives or coloring agents (and of course, no thickeners!). Therefore, our products are prone to natural variation. For example, if a salmon is pinker or juicier, it will show up the same in the can. A traditional pate has the same amount of moisture as our cans.

However, by not adding thickeners our moisture is usually found around the outside of the pate. DON'T DISPOSE OF THIS LIQUID! It contains healthy fats/oils, proteins and soluble vitamins from our ingredients. Instead, we recommend mixing it with the pate in the can. Once mixed, our products take on a mousse or applesauce texture. If you prefer a gravy, simply add more moisture. This soft, silky, apple-saucy texture is great for older animals. ALL our canned diets are complete and balanced and may be fed as a stand-alone diet. Our products can also be used as a topper for kibble, encouragement for taking medication, and for maximum excitement, frozen in a chew toy!
Is it dinner time yet?
If I were a cat I'd be salivating right now! In fact, I can't wait for my crew to try this stuff. I'm so proud to carry the canned formulas of FirstMate pet foods in The Boutique for Cats so that you can provide your cat with truly healthy, human grade food options.
Have you tried FirstMate or Kasiks? If so, leave a comment below! Please share this on your favorite social channel so that your followers can learn how to help their cats be happy and healthy. You can sign up here to follow our blog!