Table Scraps Or Cat Food?
Let's face it…
Mealtimes are cats' favorite times…next to sunning and napping. Quality nutrition leads to quality health; poor nutrition leads to poor health. It's a reality both for pets AND people. Because most pet parents buy their cat food at the grocery store they are setting up their furry companions for future health issues. I read a comment from Dr. Wysong's pet blog post a couple of weeks ago that pets should be allowed to eat—Gasp!—table scraps! I realize that many pet parents think this is the worst thing you can do for your pets, but it's really more ideal than feeding your pet a processed diet of grains and dry kibble. Real whole food from quality sources of protein and fats along with real vegetables and fruit are actually ideal.
Got a Fussie Cat?
Today I want to introduce you to Fussie Cat. This cat food company "get" cats and understands what really makes for healthy cat food. According to their website, they start with the premise that cats are naturally carnivores. Therefore, their "Physiologically Correct™ recipes always start with meats rich in complete proteins as the main ingredient. But it wouldn't matter how nutritious the food is if your cat won't eat it, so they tailor the taste of the recipes based on actual feline feedback to ensure it's equally delicious. When they say their food is Co-Created by Cats, it isn't just a slogan, it's the secret to everything they make."
A Closer Look At Ingredients
While I will never recommend a kibble product, I do like their premium canned foods. And even more importantly, my cats LOVE them. Most of my cats eat mostly a raw diet, but my two older cats prefer something "cooked." Their canned foods include top quality meat sources like chicken, tuna, prawn, salmon, duck, muscles, threadfin bream, smoked tuna, anchovies, clams, dried eggs, and ocean fish. Then they include real vegetables and fruits including peas, carrots, sweet potato, alfalfa, blueberries, cranberries, kelp, potato, and rosemary. (Some of their food contains a small amount brown rice which I don't recommend as cats should be on a grain free diet.) They also source carrageenan from red algae to use as a thickener and stabilizer. You'll also find sunflower seed oil and real chicken broth in their recipes, along with added vitamins, minerals, and supplements that promote optimal health and nutrition for cats. The food contains 86% moisture which is severely lacking in most cats' diets.
The Result
The end product is a juicy, very palatable feast that your cat will inhale–and then ask for seconds! See for yourself! The 2.47 oz size cans are perfect for single servings and economical as well. If you're looking for a way to transition your cat off the grocery store brand you've been buying this product is an excellent option. If you can't find it in your regular pet store you can get it online in The Boutique For Cats!
I want to hear from you! If you decide to give this food a try let me know what your cat thought.😺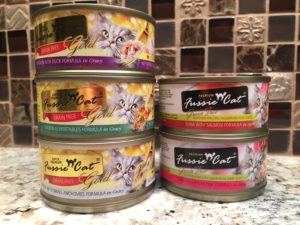 Save
Save
Save
Save
Save
Save