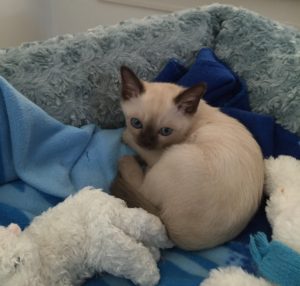 First Aid For Cats
Did you know that April is National Pet First Aid Awareness Month? Neither did I! I was reading a newsletter and it made me stop and think about what I have available in case of an emergency with one of my cats. Honestly, cat emergencies are not at the forefront of my mind on a daily basis. In fact, I'm not a very reactionary person to begin with. I tend to be more calm under pressure and think things through. However, it's always a good idea to be prepared in advance! When it comes to first aid kits for cats there are some items every cat parent should have on hand.
Recommended Contents
My teachers at The Lightfoot Way make the following recommendations:
A light blue towel or blanket – Light blue is calming and in the event of illness, injury or trauma, this color is exactly what your cat needs. You can place the towel or blanket around them. How much you wrap them depends on their situation and the climate they are in. A major calming effect is from the energy the light blue gives off. Cats are sensitive to energy in various forms. It is not about the cat being able to actually see this color.
Rescue Remedy – This is a combination of 5 Bach flower essences that work beautifully together in emergency situations. They can create a sense of calm and peace with your cat. This can be a life and death factor for a cat in serious condition. For some cats, even though their physical injuries are not life threatening, shock can kill them if their body shuts down. Rescue Remedy has the ability to keep this from happening. If the cat is unconscious, you can place the drops on their gums, ears or feet. This way you can help avoid the drops going down their throat when they can't swallow.
Lavender Essential Oil – Most people know this oil is great for calming, but did you know it can provide pain relief for burns and help them to heal? It can also assist the healing of other types of wounds. You can mix the oil with water and make a spray. Be sure you use a glass bottle because essential oils will eat through plastic. Also make sure you are using therapeutic grade essential oils. Burns can be excruciating painful, and it is amazing how lavender oil can relieve or eliminate intense pain. Severe wounds or burns should be seen by a vet.
Goldenseal Root – This herb can stop bleeding. You can open up capsules or use a liquid form and apply as needed to a bleeding nail or wound.
More Must-Haves
In addition to these items there are some homeopathic remedies I highly suggest you keep on hand. Using homeopathy is completely safe and super easy, and you can purchase individual tubes or bottles either online or in a natural vitamin store or grocery store. Typically cats will need a 30C potency. To use take 3 pellets and dissolve in about 1/4 of water. Stir briskly or shake vigorously and then give 1/2 ml with a syringe. You can also dry dose by popping a pills directly in the mouth. Watch for changes in the cats and re-dose when the remedy action starts to wear off.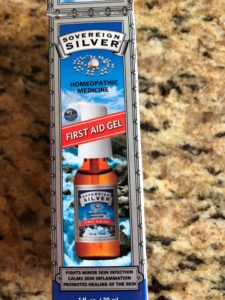 Arnica montana – Arnica is great for pain relief as well as stopping bleeding.
Cantharis – Cantharis is by far the best and quickest remedy to relieve a UTI. Usually 3 doses 12 hours apart do the trick.
Nux vomica – This remedy is commonly used for acute cases of vomiting or nausea.
Mercurius – One of the best remedies used to treat diarrhea.
Apis – Perfect for allergic reactions, including food allergies or sensitivities and bee stings.
Aconite – This is used for shock or snake bites. It's also excellent for newborn kittens who are fading for unknown reasons. Dr. Will Falconer, DVM, likens it to a "re-set" button.
Hypericum – Used for nerve injuries.
Ledum – Ideal for puncture wounds.
My other go-to is colloidal silver. It's antibacterial, anti-fungal, and anti-viral, and works well for fever, too. Colds, viruses, bacterial infections, ring worm and even skin abrasions can be treated with colloidal silver. The brand Sovereign Silver makes a topical gel that is safe to apply to the skin, and there's no issue if the cat licks it off. The liquid form is tasteless and is easy to administer with a syringe or in food.
It never fails: our cats seem to get sick on a weekend or during the middle of the night when the vet's office is closed! Rather than feeling helpless you can be empowered to do something in the meantime. First aid kits for cats should not be a replacement for veterinary care when there is a serious medical emergency. In some cases the tools you use may buy you some time on your way to the animal hospital. In other cases they may resolve the issue with no need to see a vet at all.
Have you had any emergencies with your cat that you were able to take care of at home? Share in the comments below!