Introduction to Muscle Testing Workshop
Muscle testing is a form of communication with the body using a system of bio-feedback via the nervous system. Used by chiropractors, naturopaths, and holistic practitioners, it's also known as applied kinesiology. Anyone can learn this skill and the ability to tap into your own intuition.
Join Pam Roussell, Founder and CEO of Purrrfectly Holistic, as she teaches an online workshop. This introductory level class is ideal for anyone unfamiliar with muscle testing who wants to learn basic techniques for success. It's also a great refresher for anyone who is a bit "rusty" in their practice or just wants to learn a new modality or two. This will be an in-depth class covering the following:
What is muscle testing
How and why is it used
Guidelines and best practices for learning and using it
Many techniques for muscle testing, including Ideomotor testing with a pendulum
Muscle testing on pets and people
Determining protocols for supplements, natural remedies, etc.
Once your order is received you will be sent an outline and a recording to watch at your leisure.
Cost: $35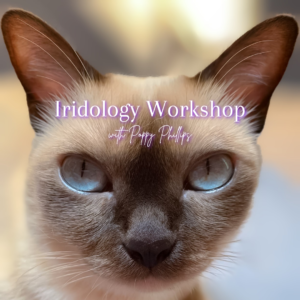 Iridology Workshop with Poppy Phillips
The eyes are much more than just the window to the soul…they give insights to underlying health issues and imbalances in the body.
Have you noticed how your cat's eyes change?
This happens due to stress, toxicity, organ or gland imbalances, inflammation, and much more.
Every shape, color, shadow and marks have significance and coincide with areas of the body, organs, glands, diseases, etc.
The study of iridology (eyes) is fascinating and has been around for thousands of years!
You do not want to miss this workshop with Poppy Phillips, animal naturopath and iridologist, as she gives an in-depth introduction into the practice of iridology.
You will learn:
What constitutes a mark
Colors of marks meanings
Level of toxicity
What an eye assessment encompasses
How to take eye photos
And much more!
After purchase you will be sent the recorded workshop via email. Access to the workshop slides can be found in the video description.
Disclaimer: The intention of this webinar is to be informational, educational, and for reference purposes only and are not intended to substitute advice given by a veterinarian or other licensed health-care professional. Nothing is intended to diagnose, treat, cure, prescribe or replace therapeutic or medical care.
Cost: $35
Color Therapy & Chakras Workshop
This workshop is intended to help you develop an understanding of how the vibrational frequencies of colors can impact and promote healing on a physical, emotional and spiritual level for your pets.
You will gain a deeper understanding of:
What is color?
What is color therapy?
Frequencies vs sight
What are chakras and what are the origins of this system?
How do chakras affect the body, mind and spirit?
What are specific colors associated with?
How do you use color as therapy?
Specific situational examples for using color with pets
Once purchased the workshop link will be emailed to you, and you can watch and review it as many times as needed.
By purchasing this workshop you agree for Purrrfectly Holistic to hold your email address so we can send you the replay. This will not be shared with any third party and you can unsubscribe at any time.
Cost: $35