I've spent a lot of time these past couple of weeks talking about how diet is so important to pets' health, so today I thought I'd introduce you to one of my favorite companies who make awesome raw food for cats!  Raw diets are as close to nature as it gets with our domesticated feline family members, and apart from making a homemade raw diet yourself, buying a top quality food made by a company that truly understands the term "species appropriate diet" is the next best thing.
Let me introduce you to Stella and Chewy's!   They were one of the first raw food brands I became aware of a couple of years ago.  Their philosophy is simple:  pets thrive when fed the natural diet they would eat in the wild.  Therefore, they source grass-fed meats, cage-free poultry, wild-caught fish, and organic fruits and vegetables.  And, they don't compromise on these tenets.  Inspired by health challenges of her own adopted shelter dog, Stella & Chewy's has a long-standing commitment to animal welfare and contributing to the health and well-being of pets.  How could you not love a company with this type of philosophy?
Their products are complete diets, consisting of meat, organs, bone, a very small amount of fruits and vegetables, vitamins and minerals, and even probiotics and antioxidants as well.  They use a system called high pressure processing which inactivates pathogens and harmful bacteria without high temperatures.  They even use an independent lab to test every single batch for pathogenic bacteria like E. coli O157:H7 and salmonella before it's shipped out.
They have both frozen and freeze-dried food, and I haven't tried a flavor yet that my cats don't like.   Frozen options include Chick Chick Chicken, Duck Duck Goose, and Absolutely Rabbit.  Freeze dried options include Chick Chick Chicken, Duck Duck Goose, Tummy Ticklin' Turkey, Yummy Lickin' Salmon & Chicken, and Sea-licious Salmon & Cod.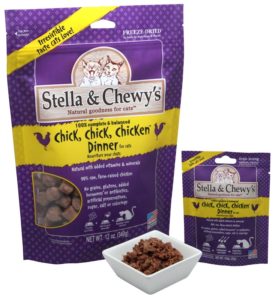 The frozen come in little bite-size pieces which make thawing quick and easy.  The bite-size freeze-dried products can be re-constituted with water, crumbled as a topping or even given as treats.  I hope you'll give Stella & Chewy's a try–your cat will thank you!  You can check where these products are sold here.