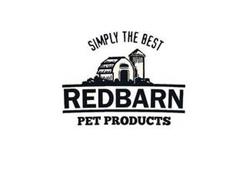 What Criteria Determines Best Cat Treats?
There are lots of cat treats on the market, and our finicky felines tend to throw the finicky side out the window when it comes to their treats. They truly don't care what's in them…but YOU should. To have a truly thriving, healthy cat you have to start with the right diet. So how do you determine which are the best cat treats out there?
Freeze-dried treats are one of the best ways to incorporate elements of a raw diet for your cat. Cats instinctively know how good raw food is for them even though not all of them prefer their raw food "fresh" out of the refrigerator. The second option is freeze-dried. Even picky cats will tend to gobble up freeze-dried treats. This is why I'm excited to introduce you to another great company who makes delicious freeze-dried cat treats!
Redbarn Pet Products
Redbarn Pet Products was started by a couple of friends who realized there was a great need for "healthy, wholesome dog food that was developed, produced and sold with integrity, honesty, and top quality ingredients." Yes, it's a dog's world…cats always seem to be second in line. However, after such great success with their dog products customers were requesting they add cat products to the mix. Hence, the line of cat treats and grain free cat food was born. Standing by their commitment to helping pets, for the past ten years, Redbarn has been donating food, treats and chews to shelters, rescue groups, and pet related organizations to help support animals in need.
I haven't gotten my hands on the cat food yet for my kitties to try, but I was sent several packages of the treats! What did my cats think of them? Well, they simply couldn't wait for seconds, thirds, and fourth servings. Made in the USA, Redbarn cat treats come in three flavors: chicken, turkey, and whitefish. The meat ingredient is always the main one, with sweet potato and ginger for added fiber. They are FREE of wheat, corn, soy, grains, glutens, artificial colors, flavors and preservatives. In other words, you can feel guilt-free if you have to give your cat a couple of extra pieces. 😸
You can find these in The Boutique for Cats here! And at a price of $4.99, they won't break your budget either. 😀 Learn more about the best nutrition you can give your cat here.
Save
Save
Save
Save
Save
Save