A couple of weeks ago I went to see my Naturopath, Laura, at Heights of Health to help me figure out how to treat an issue I was dealing with.  While I was there I also spent time trying to find some things for Rocket.   He loves to spend these hot summer days soaking up the sun in our courtyard.  Just recently he started sounding congested when he would "talk," purr, or sigh, but the curious thing is, apart from getting a little phlegm every now and then, he had absolutely no other symptoms; no runny nose or eyes, no coughing, no sneezing…but I knew it was respiratory somehow.
So there I am looking over the shelves labeled respiratory/lung issues and immune system.  There were dozens and dozens of bottles of homeopathy, herbal medicine, and supplements, and yep, I muscle tested every single one of them using Rocket's photo.  Only two items he tested positive for:  Core Pau D'arco Blend by Energetix and L Drain by Transformation.  L Drain helps the lymphatic system flush out whatever the body is clearing and helps speed up the healing process.  Core Pau D'arco Blend stumped me, so I asked Laura what it was normally recommended for, and she told me fungus, molds, and candida (yeast). I had never heard of this type of condition in cats, but hey, there's always a first!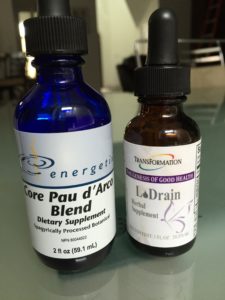 Last week when I was writing the blog I came across something in Dr. Becker's article I referenced. She had a go-to list of natural treatments for respiratory diseases in cats, and guess what was listed?  Pau D'arco!  I knew then I was on the right track.
Now Rocket is taking 30 drops of each twice a day, and he'll have to finish three bottles each of these products.  Knowing it doesn't taste very good I realized the only way he was going to get all this down him was to use baby food.  I have to use about 1/3 of a jar and mix it completely. You know how cats are…their sense of smell is incredible, and they don't normally take medicine enthusiastically.  Rocket, thankfully, is not your normal cat.  Back when he was about two he had a nasty parasite, and to our surprise he actually lapped up the medicine right out of the lid—voluntarily!  Fast forward six years later he's a bit more discriminating in his preferred medicinal palette and has simply refused to take his baby food/medicine mixture when my husband gives it to him.  I, on the other hand, must have a special touch because he cleans the bowl!
When approaching health conditions we don't always have a diagnosis.   I did some research to see if I could figure out what type of fungal respiratory infection he may have but came up negative.   None of his symptoms matched anything I found, and muscle testing each type came up negative.  However, when looking for a form of treatment muscle testing is essential because it's the tool the allows you to determine what the body needs, how much, and for how long.  Just like humans, your cat's body innately knows how to heal itself when given the right tools!
Does your cat have a special health condition or illness?  What treatments or protocols are you currently using?  If I can be a resource for you please send me an email!
Save
Save
Save
Save
Save
Save
Save
Save
Save
Save