What is your kitty up to this summer?  Back in May we took our family vacation to Color
ado.  It's always an adventure when you travel with cats!  These days you'll find the cats lounging in the sunny areas in the courtyard or sleeping on the cat tower next to the sunny window.  There's never a shortage of laughs in our house, especially with a baby—ok, she's 11 months old—in the house!  This past week I came home from the grocery store and was in the process of unpacking the items.  Cats seem to be magnets for empty bags, and Aylen is no different.  I had no sooner emptied a bag and she leaped inside.  I could just see the wheels turning in her head as she started to get that "wild-eyed" look on her face that spelled mischief.  I grabbed my phone just in time to snap this photo before she jumped out and continued to slip and slide into all the empty bags on the floor.  She also pulled a fast one on Hershey and Rocket.  Check out her moves below!
Gunner, on the other hands, prefers a little cat yoga with mom to entertain himself.  And every once in a while they actually act more like humans than cats!  Due to the summer heat and the time they spend in the courtyard the twins have been coughing up some hairballs.  Besides getting brushed everyday now, I give them some coconut oil, which helps them pass the fur easier.  I also put a couple of drops of Young Living's Di-Gize essential oil in each litter box twice a week.  It helps with hairballs and parasites, among other things.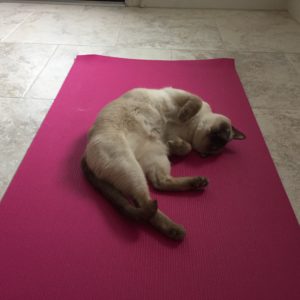 What are some of your cat challenges you're dealing with this summer?  Got any funny cat videos?  Please send them to me–I'd love to post them on our Facebook, Instagram, and Pinterest pages!
Save
Save
Save
Save
Save