September 4, 2016 | by Pam Roussell
Harness The Power of Nature for Your Cat
Because a natural health approach is not a "one-size fits all" it's important to have lots of tools in your "toolkit", so to speak. Unlike allopathic medicine, which commonly uses drugs and surgery to try and remedy poor health conditions and illnesses, there are a number of natural approaches you can use, including herbal medicine, homeopathy, and essential oils.
Essential Oils and Holistic Health
I was out of town last weekend attending a fitness convention and had the privilege to attend a lecture on how to use essential oils for relieving pain naturally. The presenter, Casey Conrad, has worked in the fitness industry for over 30 years, and was introduced to essential oils several years ago after an injury. Thus began her path and exploration into the world of natural health. Her journey, like mine, began when an allopathic approach to her health wasn't doing the job. It's often the same path pet owners end up on when conventional veterinary medicine isn't resolving their pet's illness or condition.
What exactly are essential oils? They are concentrated plant extracts of herbs, trees, and plants obtained by steam distillation, cold-pressing, or resin tapping. They can be used directly as single oils and blends, and they can also be found in home products, nutritional supplements, and body care products. Now before you run off to the grocery store or health food store and get whatever products are sold there, you need to understand the difference between therapeutic grade and non-therapeutic grade oils. The oils sold in the grocery store are cheaper versions of oils and are not guaranteed to be 100% oil. They may contain water or other ingredients besides the oil, and this makes their efficacy less powerful. Therapeutic grade oils, while they are more expensive, are 100% oils, and they are much more powerful and effective. Scientific studies actually prove this. These types of oils are very potent and even tiny amounts can have a powerful effect on your pet.
Essential Oils and Pets
I took a workshop last year presented by a holistic vet and a natural health practitioner on essential oil use in first aid for people and pets, and I can tell you, it was fascinating! Since then I've noticed that essential oils have been gaining popularity and usage both in people and pets. I've even used them with my kitties! Dr. Karen Becker, a holistic veterinarian, along with Dr. Melissa Shelton, a pioneer in the use of essential oils for animals, are firm believers and use them regularly in their practices. Even Dr. Joseph Mercola is a fan of using oils; check out his guide here. Here are just a few ways essential oils can be used with your kitty (or dog):
upset stomach/nausea
stressful situations
emotional distress/shock
hot spots
hairballs
cuts and scrapes/first aid
trauma/injuries
curtailing aggression among pets
flea/tick prevention
specific health conditions (as directed by a trained, integrative or holistic vet)
Therapeutic grade oils can be taken orally, topically or aromatically. Cats, being very sensitive to smells and because their metabolism is very different than dogs, often can benefit just from diffusing the oils. When using topically on cats oils must be diluted A LOT. In order to know which method and dosage you would need, it's important to muscle test first! It's important to note that oils do not cure conditions. Every animal's (and person's) body is different and responds to oils differently. Therefore, the body takes what it needs from the oil and innately knows how to use it. As I've said before, the body can heal itself when given the proper tools!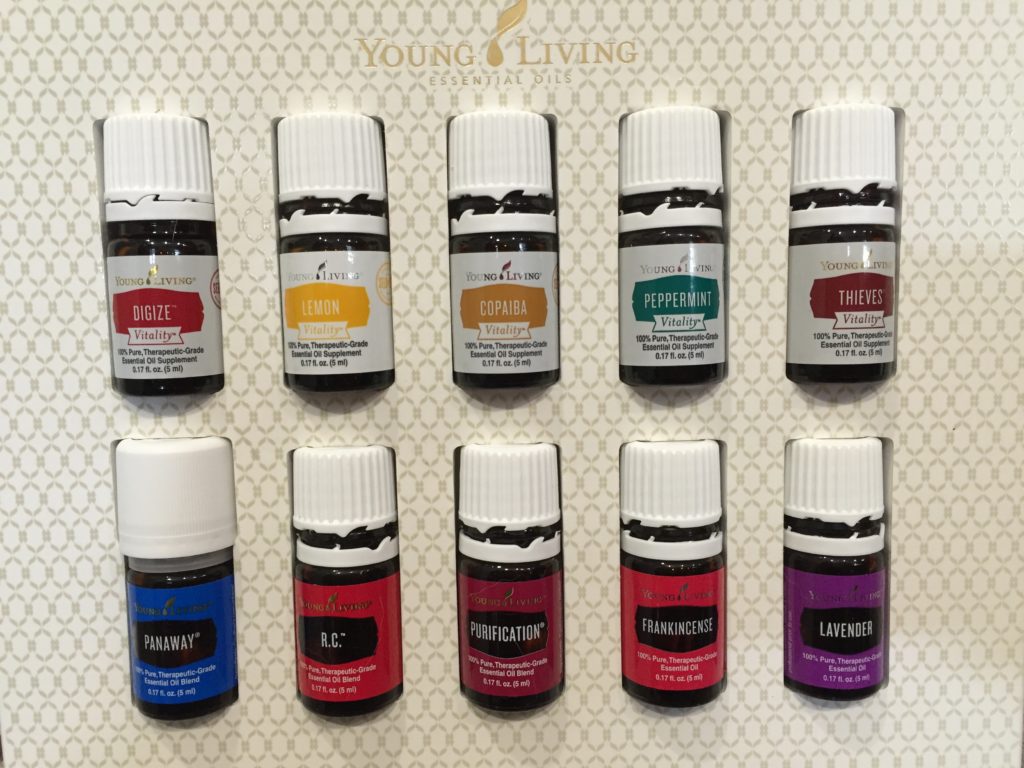 The Young Living Essential Oils Difference
I knew from that first workshop, which happened to feature Young Living Essential Oils, this was something I definitely wanted to incorporate into my own holistic health toolkit. Young Living has been around for over 20 years and have set the benchmark for the use and manufacture of essential oil standards and purity potency. In fact, they even stand behind their products from "Seed to Seal." What does this mean? They select the seeds; they cultivate the plants using sustainable practices on their own farms or partnered farms; they distill the plants; they test every batch for purity and quality; they seal and inspect each bottle for it's shipped out. Becoming a member of YL has been on my radar for months, but the timing just wasn't right. As soon as Casey's lecture was over I knew it was time to move forward, and I enrolled and ordered my kit. If you are interested in purchasing any Young Living Essential Oil products, you are welcome to explore their website and use my Member # for your orders: 10129116. Thank you in advance!
If you'd like to learn more about how essential oils are used with pets, check out Dr. Becker's fascinating interview with Dr. Shelton here. While mom was so excited to get her new kit, Aylen was just excited about the box!

Disclaimer: "These statements have not been evaluated by the Food & Drug Administration . These products are not intended to diagnose, treat, cure, or prevent any disease.
Save
Save
Save
Save
Save
Save
Save