March 30, 2017 | by Pam Roussell
Hound & Gatos: Award-Winning Grain-Free Cat Food!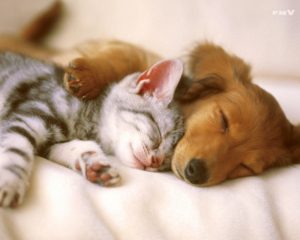 Wondering What's The Best Grain-Free Cat Food For Your Cat?
With so many pet foods on the market today, how do you know which ones are really good? Can you trust this brand or that brand? What are their values, and how do you know if their ingredients are top notch or not? I feed my cats a combination of fresh raw food, freeze-dried, and premium canned food. Today I want to introduce you to one of my cats' favorite canned cat foods: Hound & Gatos!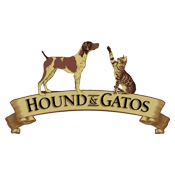 Award Winning Cat Food From Hound & Gatos
Hound & Gatos Pet Foods Corp., located in New York, is owned by U.S. Marine veteran Will Post, and has been awarded "Most Trusted Pet Foods Company" for the fourth year in a row by TruthAboutPetFood.com. Like me, he understands that diet is pivotal for the long term health and vitality of our pets. They need a species appropriate diet that is meat based with no added carbohydrates. He describes the food as being like a Paleolithic diet; the food doesn't have ingredients like soy, grains, glutens, artificial preservatives, artificial colors, artificial flavors, generic livers, chemicals, carrageenan or flavor enhancers. Like the good patriot that he is, all the food is made right here in the USA in South Dakota.
No recalls for this cat food!
In my previous blog, I talked about the pet food recalls that plague the pet food industry. You'll be impressed to know that Hound & Gatos is the only global brand that tests every batch of pet food for the correct DNA, and the company has never experienced a pet food recall! This company understands that a proper diet rich in protein and water helps to prevent conditions like feline kidney disease and feline IBD. So, if you can't or choose not to feed your kitty a raw diet, you can feel confident knowing that the care and dedication this company has in producing high-quality cat food will help your kitty to be healthy and live longer.
Novel proteins for your cat!
They have a variety of flavors including beef, chicken, pork, salmon, rabbit, duck and lamb. I love the fact that they have a variety of proteins so you're able to rotate flavors. It's always best to offer your kitty something other than the typical chicken and fish flavors because these two proteins are considered "hot" foods and promote inflammation. Not surprisingly, chicken and fish are the most common foods cats (and dogs) develop allergies or sensitivities to. If you don't have a store near you that carries Hound & Gatos, no problem! You can find it here in The Boutique for Cats!
Save
Save
Save
Save
Save
Save
Save
Save
Save
Save
Save
Save