December 9, 2018 | by Pam Roussell
A Few Of My Favorite Gift Ideas For Cats This Year

What do you mean I'm NOT the most important family member on your Christmas list???
Let's face it: buying Christmas gifts for family members can be challenging! Will they like their gift? What if it doesn't fit? Where do I even start? What do they like? It can be stressful! When it doubt, give a gift card!
When it comes to shopping for our cats, well, that's much easier. The problem is it's actually too easy, and you can end up spending way more than you budgeted for! There are so many cute–and functional–things on the market it's hard to choose. I've put together a list of my favorite gift ideas for cats this year, and perhaps it will give you some ideas. They are all available in The Boutique for Cats!
Gift ideas for cats
Whether your cat is naughty or nice there's a little something for every purrsonality. Most of these are very budget-friendly, too. However, if you're in the mood to splurge there are a few items to indulge in, too!
Gifts Under $25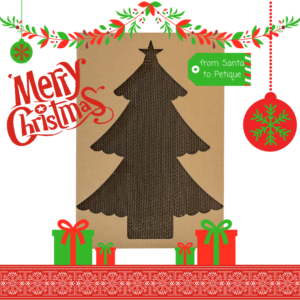 Christmas Tree Scratching Board: $7.99

Your cat loves to scratch–they're genetically wired to do so. Therefore, you may as well give them something festive to do it on! Sprinkle a little catnip on it and your cat will be in heaven.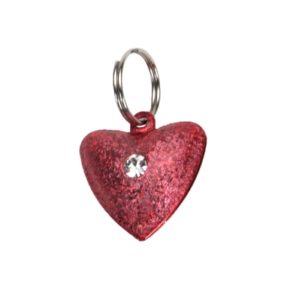 Heart Cat Bell for collar: $2.25
Sometimes you just need to know where your cat is; other times you just want your cat to look cute. This adorable bell you attach to your cat's collar is the perfect solution!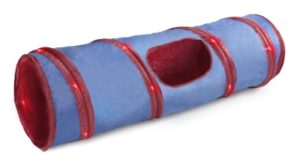 If your cat loves to play and chase this tunnel is ideal. It has motion-activated lights and makes crackling sounds which entice your cat to play, hunt and pounce!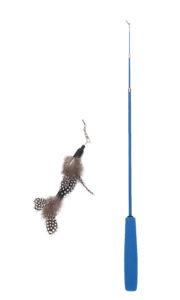 Adjustable Feather Cat Toy: $12.99
This toy was a huge hit in our home this year. The feathers and bells make it irresistible, bringing out the tiger inside your couch potato!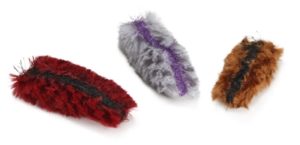 Caterpillar Catnip Toys: $6.99
Some cats love to bat things around on the floor, and these catnip toys are perfect. They come in a set of three. are filled with organic catnip, and crackle, too!
Grandma Lucy's Freeze-dried cat treats: $13.64
My friends often joke that Grandma Lucy's cat treats are like "kitty crack." These freeze-dried single protein treats have my cats begging for more! They may be your cat's new favorite treat, too!
Gifts to splurge on
Cats are masters at finding the softest, most comfortable places to sleep and snuggle. This yummy paw-print fleece blanket is ideal for snuggling and a bonus if you both cuddle together in it!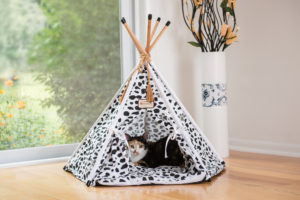 Is it a toy or a bed? It's both! What cat can resist a great place to play hide and seek or snuggle in for cat nap? The trendy design and colors look good in any home, too.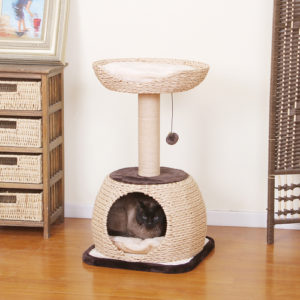 If you're in the market for a new or additional cat tree look no further. I love this one because it's got the perfect cozy and private condo to hide in as well as the snuggly perch on top. Plus it doubles as a giant scratching post! It gives your cat options–and let's face it–cats LOVE options!
Bubble Peapod Cat Carrier: $135
Cat carriers don't have to be bulky, boring and ugly! Why not make that next trip to the vet–or wherever you take your cat– in a stylish, comfy one instead? It has a viewing sphere, adjustable straps, ventilation holes, a hard exterior shell, and washable pad inside. Choose from green, yellow, purple or magenta, and it fits up to 12 pounds.
In the end, it's not about how much you spend but how much happiness it brings your cat! I hope this list will help inspire you as you finish up your holiday shopping for the most important family member on your list: your cat! And on Christmas morning your cat won't give you the stink eye. 😺