June 15, 2019 | by Pam Roussell
Pet Food Trends: Consumer Values Are Changing The Game
You've probably heard the expression one idea can change the world. It's true that ideas can change the world, but what's even more powerful is when you have values behind that idea. Values are changing concerning our food supply, concern for the environment, animal welfare, farming practices, and the quality of ingredients. Furthermore, values are influencing not only how human products are made but pet products, too. Pet parents are voting with their wallets, and the pet food manufacturers are finally paying attention! Pet food trends today are being shaped by what consumers value, and this is having an enormous impact on both pets and profits.
Values are shaping pet food trends
I was reading a couple of pet industry articles this week that got me really excited. They both had to do with trends shaping pet food products today. Trends begin with an idea that starts small, gains traction and popularity, and ultimately is too big to ignore. And it's usually the "little guy" who starts it.
Take raw pet food, for example. Companies like Steve's Real Food pioneered the commercial raw pet food industry back in 1998 because they felt they could "do better" than the standard pet food on the market at the time. Whether inspired by healing a sick pet or simply wanting to use fresh, locally-sourced, whole food ingredients, independent pet food companies continue to make an impact in the pet food market. With these values in mind, companies like Stella & Chewy's, Darwin's Pet Food, Primal Pet Food, The Honest Kitchen, and Small Batch, among others, continue to create raw and freeze-dried recipes today. As a result more and more pets are reversing disease and illness and living healthier lives.
Influence grows from trickle to tidal wave
Back in the beginning I'm sure the "big guys" at the time just laughed and thought these smaller companies would never last; they just simply wouldn't be able to compete with the established pet food giants. Or so they thought. Time has proven them wrong and continues to do so even today. Little by little smaller mom and pop companies who care about quality, ingredient sourcing and how their food products are made continue to take a bigger piece of the pet food market pie.
The values these companies embrace shape their products and ultimately win over customers who share them. What may have begun with a small trickle has gradually evolved to a tidal wave of popularity. Today the influence of these values can no longer be ignored. In fact, even the Associated Press took notice in their 4/4/19 article about the rise in the demand for fresh pet food. Nielson statistics show sales increased by 70% between 2015 and 2018 for fresh pet food sold in grocery stores and pet stores.
Pet food trends: which values do you share?
Consumers are more educated today than ever before when it comes to the food they eat. Not surprisingly they want the same standards and quality for both themselves and their pets. Therefore, the demand is driving pet food companies to do better.
Curious to know what smart pet parents are seeking out in pet food these days? Here are the top values that are changing the pet food market today. How many do you share?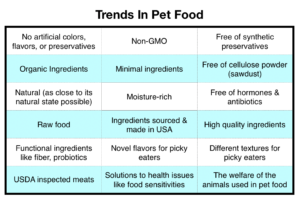 Finally, super-premium products that check all the boxes come at a higher price tag. "It is an oxymoron to have a high-quality product at a 'cheap' price," says Holly Sher, owner and president of Evanger's Dog & Cat Food Co. However, because pets that are fed high quality nutrition tend to live to longer, healthier lives it can be a small price to pay in lieu of expensive vet bills later.
What values do you look for in a cat food product? If feeding a high quality diet has improved your cat's health share in the comments below!