November 5, 2017 | by Pam Roussell
Purrfect Holiday Gift Ideas For A Cat Lover
Need Gift Ideas For A Cat Lover?
Now that Halloween is over we find ourselves kicking off the holiday shopping season! If you haven't yet encountered Christmas and Thanksgiving decorations in every store you walk into, don't worry—you will! I love this time of year. The seasons start to change, the weather cools off, and my favorite holiday, Christmas, is rushing towards us as we wrap up another year. Now is when the serious task of holiday gift shopping begins! Bargains, sales, commercials, and advertisements greet us with every turn. Need some suggestions for that someone special cat fanatic? It's easy to find great gifts for your spoiled and pampered kitty here in the The Boutique for Cats as well as other stores. But today I want to give you some great gift ideas for YOU—the cat mom and dad! Pencil and paper ready?
Cat Portrait Artwork
One of the most unique and personal gifts you will cherish for life is a portrait of your precious kitty! I had the pleasure of making a new friend on FaceBook recently, Carlton Salter. It turns out he is an incredible artist. He can take a photo of your cat—or a photo of you and your cat—and recreate a beautiful, life-like portrait!
New artwork takes him about 3-4 business days to complete, and a copy is then sent to you via Facebook attachment for your approval. The artwork is signed on the back & shipped in a Priority Mail poster tube for secure shipment.
New original artwork: $225 (includes Priority Mail shipping)
Immortalizing your kitty: priceless!
If you're interested reach out to Carlton on FaceBook @Carlton Salter or by email: carlsalter3@gmail.com
More Purrfect Gift Ideas
I also read a great article in BuzzFeed this week that highlighted some great gifts for cat lovers! Here are a few of my favorites plus some others I found online.
Cat Measuring Spoons
Every cat-loving cook needs a set like this!

Get yours from Amazon for $19.30.
Cat plantar
Perfect for the green thumb cat lover in your life! Perhaps you can grow a little cat grass for kitty, too?
Get it from West Elm for $12.
Cat Portable Phone Charger
You'll never run out of paw-er with this kitty!
Available at Modcloth for $19.99.
Cat Bath Mat
What better spot for your cat to sit while he waits and watches as you shower or take a bath?
Find it at Urban Outfitters for $24.
Cat Tea Kettle Cozy
Because cats love to sleep on anything warm, this cozy cover is perfect for the tea-drinking, cat lover in your life.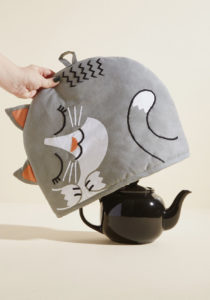 Get it from Modcloth for $24.99.
Cat Measuring Cups
No kitchen would be complete without these cute measuring cups!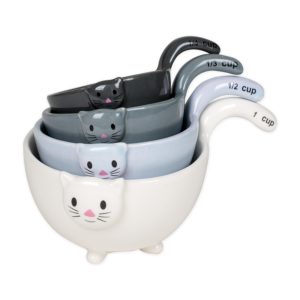 Available on Amazon for $34.95.
Cat Patterned Glasses
For the cat lover who already has a nice collection of mugs, these glasses are a purrfect addition to their glassware.
Find them at Urban Outfitters for $19.
Cat Welcome Mat
Give everyone who visits a proper greeting!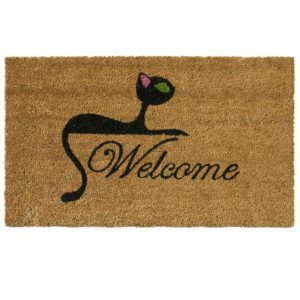 Get is from Home Depot for $21.72.
Cat Rolling Pin
When you just can't get enough desserts or cats, this rolling pin is perfect!
Find it at Amazon for $23.99
Cat Wooden Cheese Board
To make your next dinner party pawsome!
Find it Anthropologie for $68.
Cat Pillow Cases
You'll have the sweetest dreams with these!
Get them at Urban Outfitters for $29.
Cat Wine Glass Markers
These sleeping cats curl around the wine glass stem and are sure to please the wine and cat aficionado.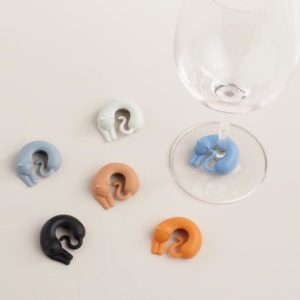 Available at World Market for 9.99.
Cat Inspired Desk Plaque
This plaque sets the tone for any conversation in your office.
Available at Modcloth for $29.99.
Cat Faux Fur Beanbag
Any cat lover deserves to be this cozy in plush comfort, cat-style.
Available at PB Teen for $135.
Let the mad shopping dash begin! What are you buying for the cat lover in your life? Share your ideas and comments below!
Don't forget to sign up here to follow all our posts!