December 14, 2019 | by Pam Roussell
Snowcats Cat Convention: Passionate Cat Lovers United!
When a bunch of crazy cat loving people converge under one roof things can get very interesting—especially if you throw in lots of cats! I just spent December 7-8 in such a place; it's called Snowcats Cat Convention held at The Cable Center in Denver, Colorado!
What is Snowcats?
Unlike any convention I've ever been to, it's really more like a festival celebrating our favorite felines. Producers Brandon and Sarah combine their talents of throwing parties and events, converging their fierce passion for all things "cat" and you have one of the most eclectic, festive gatherings I have ever witnessed.
What makes Snowcats special?
For starters, there are venders who sell amazing and cute cat things like toys, treats, bedding, carriers, gifts, jewelry, fountains, and more. Next, combine artistic people like photographers, artists, aerialists, musicians, and DJs. Follow this with activities like cat yoga, educational talks, Reiki demonstrations, and cat wellness and behavior experts.
No party would be complete with food and beverages! Not to worry, a full bar—complete with cat wine—catnip infused drinks for cats—and delicious food was available all throughout the event.
Let's not forget the incredible hearts of people involved in cat rescue and adoption. Guests enjoyed a cat cafe complete with kittens and cats to pet, cuddle, play and relax with. A few lucky cats even found their forever homes!
Famous celebrities known for being cat lovers made appearances including Nathan the Cat Lady, Moshow the Cat Rapper, comedian Zoltan Kaszas, and Adam Myatt, Catman of West Oakland. Even Bagel, the famous Sunglass Cat, schmoozed the crowds and enjoyed countless photo ops. She has to be the most chill cat I've ever met!
Snowcats brings passion and purpose together
What I enjoyed the most was spending time with Jae and Adrienne, The Two Crazy Cat Ladies, and friend and client Teresa Pettit. Despite having only spoken on FaceTime until now, it was amazing to finally meet in person and spend time together all weekend. I also had the pleasure of meeting Dr. Lynn Bahr, DVM, founder of the cat toy company Desi & Roo. Look for a future interview with her on the Purrrfectly Holistic Radio Show in 2020!
I admire the many ladies I met who are involved in cat rescue, TNR and pet adoption. These ladies spend countless hours advocating for cats and kittens in need. There were many cat moms who stopped by the Two Crazy Cat Ladies' booth whose cats were having health issues. Having the chance to offer them guidance, insight and hope is so gratifying. There is nothing better than serving the cat community and helping cats live long, healthy lives.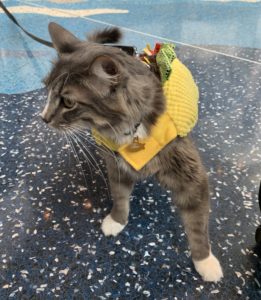 There were cats everywhere!
Finally, did I mention there were cats? LOTS of cats. Visitors brought their treasured felines in strollers, backpacks, leashes, and shoulders. People and cats were dressed in costumes or sported beautiful face painting. Everywhere you turned you could hear people oohing and ahhing over the cats. Including me.
Only in such a place can the beautiful cat community never tire of listening to others' cat stories and sharing endless photos of their precious fur babies. Not surprisingly, cat parents just "get each other." No eye rolling or yawning here…just more of "let me show you my cat!" And it never gets old.
Can't wait until next year! Thank you Snowcats!