November 28, 2016 | by Pam Roussell
Hello Kitty!
A couple of weekends ago I went to visit my aunt Bonnie and uncle Gary in Waco, TX. It had been awhile since I was last there, and we had so much to talk about! I also had a cat agenda, too. It was finally time for their resident feral kitty turned love bug, Major, to make the transition indoors, and I just had to go officially meet him. We shared some deep bonding moments. 😻
What's the biggest cause of feline skin conditions?
Bonnie has a good friend and co-worker who is just as cat crazy as she is, so I asked if I could go meet her and the cats. Jennifer shares her home and backyard with a total of five kitties: three who live indoors and two ferals who live outdoors. Hello Kitty, one of the indoor rescues perched on the living room couch, watched through the big bay window as we approached the house. She's a cute little shy thing but warmed up quickly, soaking up all the attention and petting, as she sat on Jennifer's lap. Jennifer showed me a spot on her where Hello Kitty has licked and pulled out the fur, revealing a red spot. I promised I would do a muscle testing evaluation on her when I got back to Houston if she could send me pictures of the food and treats she's feeding her.
Dr. Karen Becker, a holistic veterinarian, posted an article this week on causes of itchy skin for cats, and I thought the timing was perfect. By muscle testing I was able to rule out possible causes like feline acne, ringworm, parasites (fleas), an autoimmune disorder that causes itchy feet called pemphigus foliaceus, and eosinophilic granuloma complex (a condition where the body produces an excessive number of white blood cells). This left diet. Food allergies and sensitivities are a big cause of itchy skin conditions. I took each ingredient in the food Hello Kitty eats and muscle tested her to determine if it was beneficial and agreeing with her body or not.
Hello Kitty has been eating Friskies Tasty Treasures with Chicken and Cheese, a dry kibble whose name I couldn't see, and Temptations Cat Treats. Here are the results:
Temptations Cat Treats with Catnip

These products did not test "beneficial" for her and should be avoided: Chicken By-Product Meal, Ground Corn, Animal Fat (Preserved with Mixed Tocopherols), Dried Meat By-Products, Brewers Rice, Wheat Flour, Natural Flavor, Grain Distillers Dried Yeast, Yellow 5, Blue 2.
Friskies Tasty Treasures with Chicken & Cheese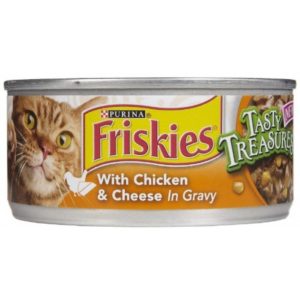 These products did not test "beneficial" and should be avoided: chicken, liver, wheat gluten, meat by-products, corn starch-modified, soy flour, cheese, artificial and natural flavors, salt, soybean oil.
Bag of Kibble

These products she did not test well for at all and should be avoided: Chicken By-Product Meal, Brewers Yeast, Rice, Corn Gluten Meal, Powdered Cellulose, Chicken Liver Flavor.
Further Evaluation and Recommendations for Hello Kitty:
1. She's having a food sensitivity/allergy to CHICKEN. It's the #1 cause of food allergies in pets because it's "over-consumed." It's simply in everything. She'll need to avoid any product with chicken in it and choose a different type of protein. The other option I recommended is to have an energy medicine procedure called Energetic Cellular Release (ECR) on Hello Kitty to essentially remove her body's allergy/sensitivity to chicken. This is very similar to NAET. I take my cats to Heights of Health for this, and sessions can also be done remotely if you don't live in the Houston, TX, area.
2. She has food sensitivities/allergies to all the grains in her diet, and this is causing inflammation in her body and exacerbating the itching. She needs to be on a grain-free diet. No wheat, rice, or corn products of any kind. Cats are carnivores and their bodies just don't process and digest grains. This is why grains are so problematic.
3. The other ingredients that don't agree with her are common cheap ingredients that pet food manufacturers use as fillers and can be toxic when fed long term. Avoid anything that says "meal, by-products, animal fat, powdered cellulose, etc.) The dyes and chemicals they use have been found to cause cancer in animals (and people). Soy products were never meant to be eaten by carnivores and are mostly genetically modified (GMO) and unsafe for consumption.
Many skin conditions in cats can be overcome through dietary changes
One of my favorite expressions is "You don't know what you don't know." Millions of cat owners don't realize how many of the ingredients in their cat food is really unfit and inappropriate for their cat to eat. Therefore, it's a surprise to them when something goes wrong…they end up at the vet's office…they get a bad diagnosis…and have to spend countless dollars and time treating symptoms with drugs and other therapies.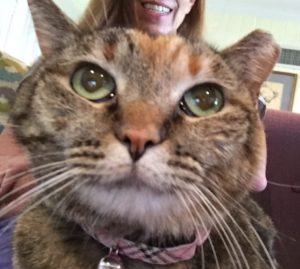 Jennifer wants Hello Kitty and all her other kitties to thrive, and besides being a bit overwhelmed with all the information I was able to give her, she is determined to make improvements to their diet. Nothing makes me happier than a happy, healthy, thriving kitty! Stay tuned for future updates on Hello Kitty and her kitty family.
Would you like me to do a complimentary evaluation of your cat's food? Is your cat dealing with any kind of health issue that you are frustrated about and just don't know where to turn? Let's try muscle testing! Leave a comment below or contact me directly at pam@purrrfectlyholistic.com. Want to learn more about reading your cat food labels? Check out our Optimal Nutrition for Cats page here.
Don't miss out on our posts! Sign up here.
Save
Save
Save
Save
Save
Save
Save
Save