December 3, 2016 | by Pam Roussell
Should You Buy Your Cat Food At The Grocery Store?
Convenience…price…recognized brands…Should you even buy your cat food from the grocery store?
These are some of the most popular reasons people buy what they buy, whether it's food, clothing, automobiles, and yes, even cat food. The ads we see that cause us to have an emotional response connect us to that brand even more.
Growing up we always had cats, and we bought their food, usually Purina Cat Chow, at the grocery store, just like I'm sure many of my readers do or have done in the past. Why? It's convenient, it's a good price (cheap), and we've seen those cute TV commercials all our lives advertising brands like Purina, Friskies, Meow Mix, and Fancy Feast. We trust that these companies, who have been making cat food for decades, know a thing or two about cats (or dogs) and what is appropriate for them to eat. Last year when I was in Denver I was driving along the highway and looked over and there was the Purina Pet Food plant! I had no idea it was located there, and I'm sure it's a local icon. But what do we REALLY know about their products? When was the last time you actually read their pet food labels?
Now this might be really hard for many of you to swallow…and your first instinct may be to close your mind…and you may even get a little upset with me for saying it, but it's time you know the truth! The pet food you purchase at the grocery store is not biologically appropriate for your pet to eat! There–it's out! Before you throw your hands up in the air in despair, let's examine WHY. Please keep in mind: your cat is an obligate carnivore, and carnivores need to eat meat. In the wild cats eat meat, organs, and bones. They don't seek out wheat and corn snacks.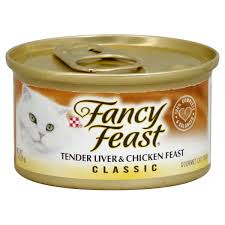 Commercial pet foods that are sold in the grocery stores typically contain meat by-products (which can be anything from road kill, euthanized animals, hoofs, beaks, tails or anything else they want to throw in), wheat products, corn products, soy products, gluten, and animal fats (which can be obtained from discarded restaurant grease, lard, and rancid fats). Keep in mind that over 80% of the corn and soy products found in food are genetically modified (GMO), which are also found to be cancer causing. (In fact, it wouldn't surprise me if pet food companies actually sourced their cheap protein from factory farms in which animals are raised in horrendous, unnatural conditions and given loads of growth hormones and antibiotics to counter the diseases these animals get from such unsanitary conditions they're raised in.) These foods also contain loads of preservatives and chemicals in order to give them a long shelf-life. They use cheap fillers like powdered cellulose (used in attic insulation) and rice hulls (used in building materials, insulation and fuel). Some of these chemicals used are derived from petroleum and are also found in skin and body care products for humans. Does that sound like something your cat should be eating? Of course not! Remember…the food is cheap for a reason!
Diseases like cancer, diabetes, allergies, skin conditions, endocrine and immune disorders are now plaguing our pets just like they are people, and the number of cases are increasing at an alarming rate. Many of these conditions can be traced back to diet. Dr. Karen Becker and Dr. Will Falconer, both holistic veterinarians, have made it their mission to educate pet owners on the importance of feeding their pets a biologically appropriate diet. While their advice may fall on deaf ears to most, usually the wake up call comes when pets are facing a bad diagnosis or a veterinary emergency that ends up costing thousands of dollars. I have a friend whose cat had to be hospitalized recently due to a urinary obstruction. Two thousand dollars later the kitty came home with a prescription diet that included wheat, corn, and meat by-products! These were some of the first five main ingredients on the food label, none of which are good quality protein sources for a cat. To add insult to injury, the grains cause inflammation and contribute to the poor urinary condition. Either the vets won't tell clients this because they sell the food or because they don't understand proper nutrition. Or both.
Some of the big box chain stores sell better brands, but once again, you have to read labels. A general rule of thumb: if you see a commercial on TV for a particular brand, DON'T BUY IT! Instead, look for the less recognized brands and check out their websites. Where do they source their meats? What type of supplements do they include in the food? Do they embrace species appropriate ingredients? What is their company mission statement? Any brand can say they want the best for pets…but do they back it up? Look for brands that use as few ingredients as possible and use real foods for supplemental support rather than chemicals or synthetic ingredients. Try freeze-dried pet food and treats. Explore making your own homemade food (you'll have to do some research). Raw diets that combine meat, bone and organs would be ideal and would mimic a feline diet in the wild. There are so many better options than grocery store pet food to feed our beloved furry family members, and they deserve it. Help them thrive!
The good news is that paying a little bit more for healthier, biologically appropriate food to begin with can give your pet the best chances of living of long, happy, and healthier life. And you'll be able to stay out of the vet's office and keep more money in your pocket. Now that's a win-win!
You'll find lots of healthier options for cat food in The Boutique for Cats! Ditch the grocery store brands and explore pet food brands who offer you a great product at a great price. Quality matters!
More great information from Dr. Karen Becker: http://healthypets.mercola.com/sites/healthypets/archive/2016/11/18/dry-pet-food.aspx?utm_source=petsprnl&utm_medium=email&utm_content=art1&utm_campaign=20161118Z1&et_cid=DM125932&et_rid=1758016183
Save
Save
Save
Save
Save
Save
Save
Save