August 22, 2021 | by Pam Roussell
SuperZoo 2021 Highlights
I can honestly say that attending SuperZoo is the highlight of my year—every year!  Besides having the opportunity to meet manufacturers and vendors or discover new products and brands, it's a time to reconnect with friends and colleagues in the industry.  This year did not disappoint.  
What happens in Vegas…is broadcast to the world!
We started the week off with an epic episode of the Purrrfectly Holistic Radio Show.  If you didn't catch the show live, you can listen to the archive here.
Jae and Adrienne with the Two Crazy Cat Ladies, Janet Cesarini of Pupology in Georgetown, TX, and Nicole Kay of Just Cats Store in Denver, CO, joined me for a round table discussion of what we see trending in the pet industry.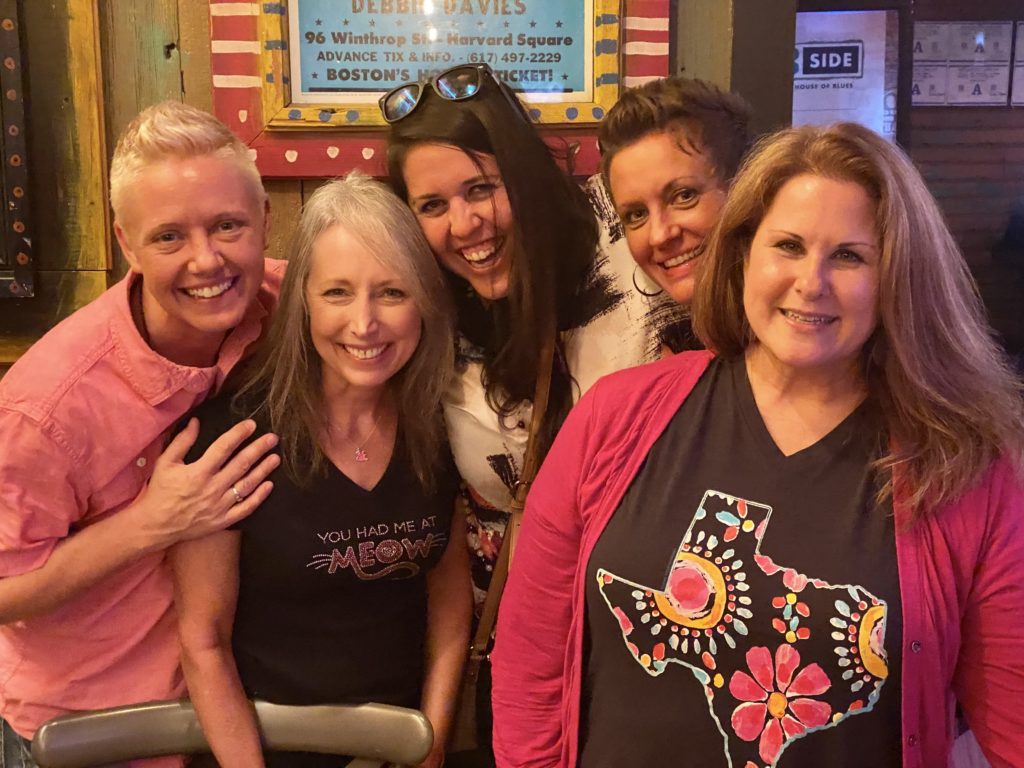 There's an overwhelming hunger for education in species appropriate diets and nutrition by pet parents. In addition, collectively we all see pet parents seeking out alternative health and healing modalities. There is disillusion with conventional veterinary care for non-emergency situations. In other words, people are figuring out how important it is to find the root cause of whatever ails pets rather than continuing to treat symptoms.
Over the past year we have all seen our businesses enjoy exceptional growth, and we expect to see this continue as we cater to the niches in our industry. After the show we celebrated over dinner at The House of Blues.
What's new at SuperZoo?
Checking out what's new in the cat product world is always exciting, too.  It was great to see so many new raw, freeze dried and air dried foods debuting.  Many of these brands have been around and were just highlighting some new lines or flavors.  Other brands are making their way into the market.  I also found a variety of toys, litter boxes, harnesses, collars, furniture, and treats, too.  Keep a lookout for these items in the places you shop for your cat!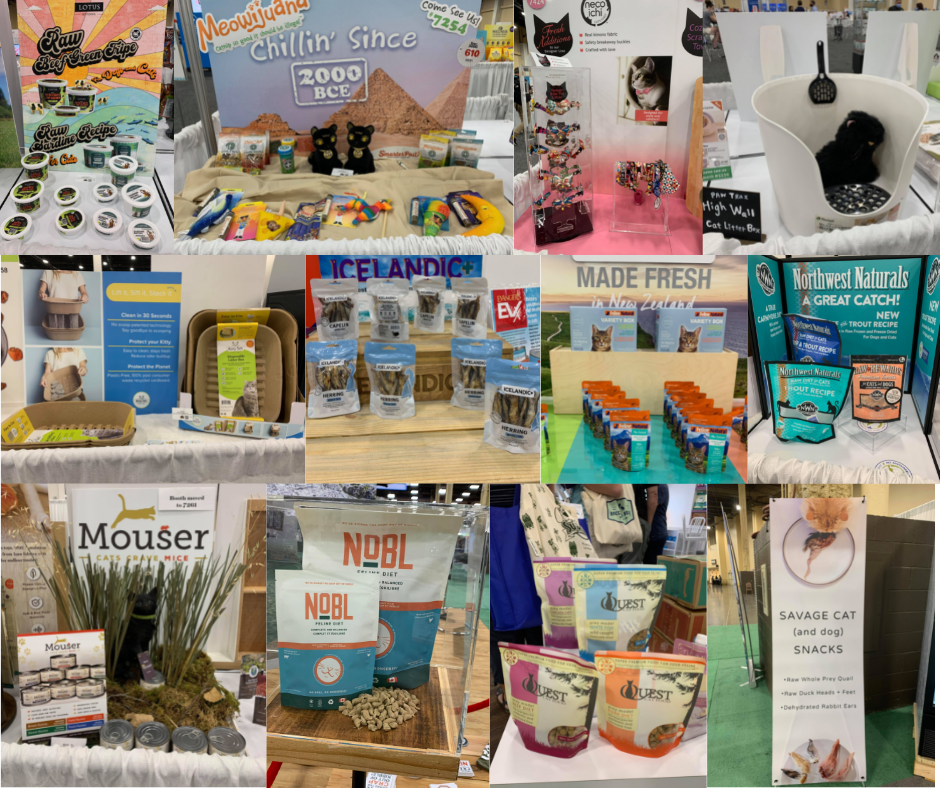 Lotus Pet Food–new raw recipes!
New toys from Meowijuana
Neko Ichi cat collars and bows
High Wall litter boxes
Kitty Sift litter boxes
Icelandic freeze dried treats
Feline Natural–new freeze dried recipes
Northwest Naturals–new recipes
Mouser cat food
Nobl freeze dried cat food
Steve's Real Food–new freeze dried recipes
Savage Cat prey model raw food
Boss Cat raw food for cats
PetPals Group new cat trees
Spot pet products featuring Doc N Phoebe's products
Artistree custom pet products
Kitty Holster harnesses
LickiMat
Spot Puzzle Feeder
New cat toys by Yeowww catnip
Calmeroos
Catit air dried cat food recipes
Catit Pixi cat fountains
Connecting with industry leaders
Connecting with my friends from Armarkat, Andrea and Ling, we continued our annual tradition of Mexican Food at Hussong's Cantina. Jackson Galaxy made an appearance, too, at the Armarkat booth with a meet and greet. It was there I met the famous Kate Benjamin of Hauspanther, who is working with Jae & Adrienne on a "catification" project in their home. Look for the new Armarkat's wall series to be included on their project sometime this fall!
I also had the pleasure of meeting Dr. Ryan Yamka, an industry leader in the field of pet food nutrition. Not only is he a super smart guy with a heart for breaking down research, he is co-founder of Nobl, a new line of freeze-dried pet food for dogs and cats that meets all his criteria for appropriate pet food ingredients. Look for the cat line to debut sometime this fall. He gave me a sample for my kitties to try, too!
The founder of Dezi & Roo cat toys, Dr. Lynn Bahr, was also at SuperZoo.  We reconnected and talked about our favorite subject—cats.  Dr. Bahr and I will be collaborating on some events together in the near future, which we are very excited about. If you are on Facebook be sure to join Holistic Cats so you can join in on our events.  
Hanging out with friends—new and old
I spent the last two days in Las Vegas with Jae and Adrienne collaborating and hanging out with their adorable kitties. It was so exciting to meet Pooh Bear, Mr. Twister, Friday, Zorro, Madison and Jack. It felt like meeting celebrities! We enjoyed a 2.5 hour Team Crazy Cat Ladies on Friday night with their VIP group energy testing members' kitties and talking about ways to help and support our cats using natural products and alternative healing modalities. What a truly special group of people who are passionate about their cats and are being empowered to help them live their best lives.
Another surprise was being able to meet twins Charisa and Carmina from Cocotherapy!  Their third generation family farm makes coconut oil and other healthy products for pets.  They are absolutely adorable, and admittedly I still can't tell them apart.  The photo shoot we all did at Jae & Adrienne's was a hoot.  Even their cat, Zorro, couldn't resist joining in on the fun!
All the work I do with clients is done remotely, so I was also blessed to be able to meet Dash and Luna of Instagram and their amazing mom Lindsay. They have been my clients for over 18 months now but we have never met in person until now!
Until next time…
Saying goodbye is always hard because it feels like I'm leaving my family. How amazing to have such a heart connection with beautiful people whose passion for pets shines like a beacon of light in the pet industry. Our commitment to pet parents, cats and dogs in the circles we all serve grows stronger by the day and pushes us to continue to learn, grow and share. Ultimately, it's all about helping our pets live long, healthy and happy lives.